It's Halloween today, and mobile fraud is scaring organizations throughout the world. Mobile fraudsters are up to their old, rather new tricks… and none of them are a treat.
Like the goblins and ghouls of Halloween, mobile fraud strikes terror and fear into the hearts of financial institutions, eCommerce/retailers, mobile wallet providers and others. However, mobile fraud does not occur one-day in the year, it happens every day, all the time.  In fact, in 2019 mobile fraud has become really scary.
This year fraudsters have become more sophisticated and have increased their attacks on mobile devices using a plethora of malicious techniques. Fraud attacks generating on mobile devices have tripled in the first Q of 2019 (Y2Y comparisons), while rogue mobile apps present the fastest-growing threat to consumers. According to Ivoation So far in 2019, 50% of suspected fraudulent transactions were from mobile devices. In 2018 that statistic was 41% and in 2017 it was 21%.
Attacks on Verticals & Industries
Financial Institutions
As financial institutions and banks continue to expand their operations – online transactions and digital banks have become the norm. Although mobile banking has simplified banking for the masses, it has also inaugurated a new era of financial fraud.
Mobile financial fraud has reached epidemic proportions. A recent ImmuniWeb study revealed that all financial apps tested in 2019 contained at least one medium-risk vulnerability. Its apparent that as bank customer's shift to mobile, fraudsters are following.
eCommerce/Retailers 
But the speedy online transactions and one-click purchasing systems that underpin the ecommerce sector don't just make life easier for consumers; they make things easier for fraudsters too.
As such, traditional approaches to fighting payment fraud have become insufficient. Dated fraud prevention techniques such as rules engines, biometric and even behavioral biometrics are lagging to adapt to the constant evolution of mobile fraud.
Moreover, today's consumers are demanding a frictionless transaction experience. Consumers hate being disrupted at any time in the buyers' journey. Most existing solutions balance between fraud detection and consumer convenience to ensure minimal interruption during the payment stage of the transaction.
Mobile Wallets
The emergence of mobile wallets has unlocked an entirely new way for users to pay for goods and services. In 2019 2.07 billion consumers will use a mobile wallet to make a purchase.
Today's sophisticated fraudsters can take advantage of mobile wallet systems to steal card information or money from users' accounts. One of the weakest points in the mobile wallet ecosystem is the card enrollment process. If bad-guy has physical access to a card or has the card information–perhaps from a dump from a data breach–he can probably find a way to enroll that card in his own mobile wallet app, even if the names don't match.
Mobile wallets are also prone to serious authentication gaps if they not supported by the appropriate, state-of-the-art verification methodologies.
Other At-Risk Sectors
Additional sectors that are disposed to mobile fraud attacks include Crypto, transportation/mobility and others.  What all these sectors have in common is that they include a payment process.
Traditional authentication and fraud prevention tools are simply not capable to stop the mobile fraud nightmare. The most effective way to stop mobile fraud and provide a frictionless transaction experience requires a multi-layered mindset.
Paygilant – Stopping the Nightmare
Founded by ex-Trusteer people – pioneers in fighting web-based fraud – Paygilant are anti-fraud visionaries in the mobile space. Paygilant employs its deep expertise, insight and ingenuity to offer the best mobile anti-fraud solution. Unlike others in the field who are spread across multiple channels, Paygilant specializes in tackling fraud threats to mobile – making it ideal for mobile platforms and behaviors.
At the core of Paygilant's is a super-effective anti-fraud solution that feels seamless for the user (and is seamless for companies to integrate too).
What makes Paygilant unique is that it combines six intellect sets – Device DNA, User Space, Activity Map, Bio Markers, App Insights and Transaction View. Paygilant's secret sauce is the interweaving of its intelligence to generate actionable insights and determine fraud/no fraud in milliseconds.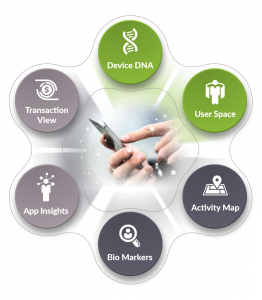 More indicators mean more accuracy and speed – and a frictionless experience. It may sound perplexing, but Paygilant is frictionless because its more comprehensive.
With Paygilant, financial institutions, eCommerce and mobile wallet providers can curb fraud while dramatically enhancing customer experience.
Paygilant is a one-stop-shop for mobile fraud authentication. Simply plug in to Paygilant. Integration is simple, and organizations can see value from day one.